Stone & Masonry
Stone Veneer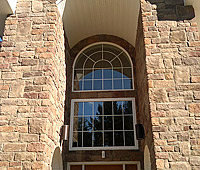 We believe the original design of this home included all vinyl siding but the new owners quickly got sick of all the siding. So, when their contractor suggested using a different material in that area they became very interested. But, the customers still wanted a worry free material. Stone veneer siding became their choice. Indeed the Yosemite veneer stone selected for this project took a plane home and made it magnificent.
The mosaic lay adds variation of size and color, while the dark raked joint with exposed stones calls attention the individual veneer. And like all our other designs this one includes unseen features that add to the durability. Features like adding to the foundation to carry the additional weight, or anchoring the veneer to make certain that stays put. These are things other masons might miss, but not us. The only thing we leave out is high prices!
Contact us now and let us create your one of a kind work of art!
Masonry
In life, we want things to last. And nothing lasts longer than brick, stone and concrete. Custom Masonry and Stone Works structures will last for many years.
From brickwork to decorative walls, our superior craftsmanship ensures that our work will withstand not only the test of time, but also: heat, rain, hail, sleet, snow, and whatever else Mother Nature concocts. Aside from their unsurpassed strength, brick and stone also brings enduring beauty to any structure.
So the next time you're looking to impress your guests and make a lasting impression, call King Pavers and let us build you something that will remain for generations to come.
Veneer