Asphalt Driveways
Asphalt Driveways vs Driveway Pavers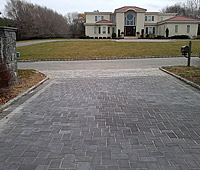 Through the use of concrete pavers, driveway design has taken on a life of its own. Where once the driveway was just an afterthought, now it is part of the landscape design.
Asphalt driveways were once as common as asphalt roads but now they are almost never considered unless the distance is uneconomical for other products. Even in those unusual conditions, you will find the driveway closest to the house made of something more pleasing to the eye, such as concrete pavers.
The asphalt industry has attempted to create a more aesthetically pleasing product by offering designs imprinted in the asphalt. Heated cables, connected in several different designs, are pressed into the driveway asphalt. Once the cables are removed, leaving channels in the asphalt, colors are used to create the look of cobble or brick on the driveway.
Though highly durable, asphalt cannot match the extreme strength of concrete pavers. Created with very high tensile strength concrete, as high as 10,000 pounds per square inch, the durability of concrete pavers surpasses all other products.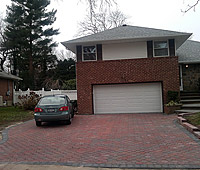 The source of most of the strength of a paver driveway is the same as that of a poured concrete or asphalt driveway. The foundation makes all the difference.
We have all seen poured concrete driveways that have huge cracks running across the center or a corner has dropped off. As a hardscape contractor, I used to tell people the only guarantee you get with concrete driveways and pool decks is they will crack. In almost every case when the concrete slab is removed we would find clear evidence that little or no foundation was ever attempted.
With an asphalt driveway the effects of a poor foundation are not so quick or so radical, but the cracks and holes are still evident within a couple of years.
As with so many other things, it is what lays beneath the surface that makes the biggest difference. As with asphalt and poured concrete, a well built foundation creates the base for pavers that can last for innumerable years.
Article Source: http://EzineArticles.com/1018026