Services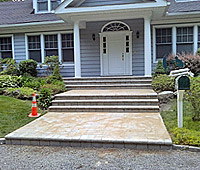 King Pavers will offer you several options, provide an initial consultation in order to understand your vision for beautifying your yard and outside of your home, and offer a competitive price. Our staff has the experience and expertise to facilitate prompt, accurate services for your home or business. Using state-of-the-art equipment, you can rest assured that your project will be completed accurately the first time around.
Pavers are the best choice!
We believe that Pavers are the best choice because they add a more upscale, aesthetic curbside and poolside appeal. Pavers also last longer and are easily replaced should it become stained. There is a wide range of styles and colors. You can potentially create your own personal design for your home improvement pleasure.
We offer all of the following services:
To get more information about our services, we encourage you to give us a call at 516-642-7602 or become a fan on Facebook!