Pavers
Concrete Pavers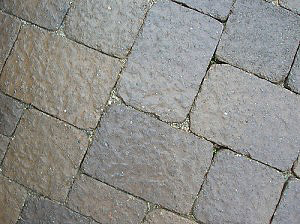 Interlocking concrete pavers.
Made from concrete, these pavers interlock through a system of sand-filled joints, ensuring that the entire structure stays together.
Strength
Concrete pavers are incredibly strong, both individually and collectively. In fact, some pavers are two to four times stronger than concrete. Thus, they will withstand all rigors of the environment.
Durability
Due to their strength and flexibility, and the interlocking nature of pavers, this material will last you for decades. You will likely not have to worry about installing a new patio, driveway, walkway, etc. unless you want to make a change.
Design Options
Your design options are limitless. There are a ton of paver shapes, paver sizes, types, and colors available. You can lay them in a variety of paver patterns. In addition, you can pair your project with other accessories, like steps, stoops, barbecue pits, retaining walls, and more – all made from this material.
Installation
Pavers installation can be difficult, but since there's no concrete involved, it can be within the skill range of some DIY'ers. However, most will want to have their projects installed by professional paver contractors.
Beauty
Pavers, when well-designed and installed, look beautiful. They go well with all home styles and themes, and they retain their beauty for many years.
Maintenance
Pavers are near maintenance free. You may have to seal them occasionally with concrete paver sealer, and perhaps reset pavers that have settled, but for the most part they are a hands-free material. You can easily remove snow from them.
Price/Value
Concrete pavers can be expensive, mostly because they have to be laid by hand. However, they add much value to your home, so you can consider the high initial price as an investment in your home and in your future.