Fireplace & Fire Pits
Outdoor Patio Fireplace Ideas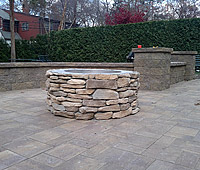 With the popularity of backyard outdoor entertaining growing everyday, adding a outdoor patio fireplace is on the minds of many home owners. Outdoor fireplaces can add warmth to a chilly night, it can add romance, and it can be center stage for toasting marshmallows or making s'mores and pizzas. A permanent outdoor fireplace can be a good investment for your house as well.
You can also choose to have it formed from concrete. Concrete fireplaces can be made into many different shapes and stone can also be incorporated in the design. You can have a rustic look or a smooth look that is reminiscent of a hacienda.

A classic fireplace with a venting hood is also possible. This style looks especially good when it is covered by a patio roof or a classic gazebo. A classic fireplace look may mimic Mexican architecture or European castles. Wood storage space can be built right in, or shelves can be included for a stereo or for decorative items. Tiles and concrete coloring or patterning can also be incorporated.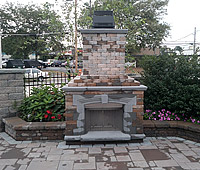 A fireplace can make any outdoor living space more inviting by adding light, sound, smell and heat. They extend the use of your backyard patio, gazebo or terrace in the spring and fall. Some can be used for grilling and as an outdoor oven.

With their popularity also comes the many choices you have to make before you buy or build an outdoor fireplace. Like with any backyard project the first question to ask yourself is.

What do I want the fireplace to accomplish?
Do you want it to provide heat, be able to cook with it or is it just for you to enjoy the sight and sound of a burning fire.

Outdoor Fireplaces are becoming a very popular additional to the backyard, from portable fire pits to full blown stone fireplaces.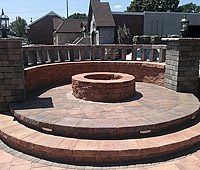 Safety Tips
While these safety tips may seem like common sense, it is always good to have a reminder.
Always keep a fire extinguisher handy whenever you burn anything.
Watch children and pets around a hot fire pit to avoid injuries.
Never leave a fire unattended. Ever.
Don't touch the outside of a fire pit when it is in use.
Don't use water to put out a fire in your fire pit.
Do not set your fire pit up on a surface that is flammable, like wood.
Always check your surroundings before you begin a fire to avoid fire hazards.
Woods to burn on the fire pit or fireplace:
Cedar is very aromatic when it is burned. It also has the added benefit of keeping mosquitoes at bay. Cedar tends to pop when burning, as oils in the wood heat up and expand. If you are planning on burning cedar, make sure you have a fire pit with a screen securely in place.
Mesquite burns very hot, so it is best to only use a piece or two along with other types of wood. It is a good wood to add to barbecues to add flavor.
Pinion pine is probably the most common wood used in outdoor fire pits. It smells nice and helps keep the mosquitoes away from your entertaining area.
Hickory is also good in the barbecue. It smells great in the fire pit, too. For the best results, only use well-seasoned hickory for burning.
Fruit wood like apple, pear and so on smell wonderful in the fire pit. They may be hard to find unless you have some fruit trees of your own. Then you can always use the trimmings in your fire pit.
If you have scrap lumber lying around, most of the time it will be fine in a fire pit. Dry pine and spruce burn very hot and fast, so split it into small pieces and use it for kindling.
Any wood that is green (uncured) or wet will tend to produce a lot of smoke. This may be annoying to you and any neighbors nearby. It is best to store your wood in a place where it can remain dry.
Patio Fire Pits
Custom fire pit designs provide can an in-ground, permanent fire pit. These pits start as holes dug into the ground, and then are lined with small walls of stone that extend above the ground. The bricks or rocks insulate the fire from the soil and block the wind. This simple design allows you to build a basic camfire in the backyard, but also gives you a place to set a grill for a few skewers. This type of fire pit can be a focal point of a patio, with seating built in a circle surrounding the pit. Consider the costs of each type of brick before purchasing for the fire pit construction; in some cases, two types of bricks can be purchased for the brick fire pit construction. Less expensive decorative brick can be used where structural integrity or heat retention is not necessary, while the more expensive bricks for specific purposes can be purchased for heat retention or structural support.